About Us
The Information Technology Learning and Technology Development Studies Centre (IMATEC) has been given the mandate and the responsibilities to implement ICT training, conduct research, and provide ICT consultancy to the public sector. In addition, IMATEC is also responsible for developing application systems and providing ICT services to all INTAN campuses.
IMATEC has further taken the task of designing and implementing certification courses in various fields through collaboration with other government agencies and ICT industries such as CISCO and Microsoft.
Changes in technology and expertise have led to the introduction of virtual learning methods to the public sector since 2008. As a result, INTAN has been appointed as the lead agency to implement E-Learning for Public Sector (EPSA®).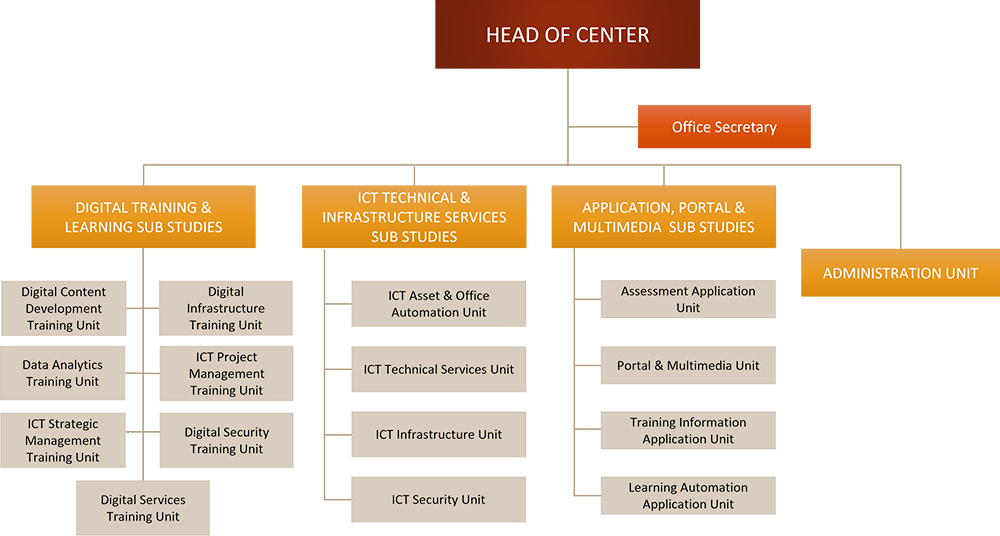 Public Sector Training Courses - Digital Services
Introduction Course for System Analysis and Design Using Object Oriented Approach
Robotic Process Automation Course (RPA)
Digital Government Module Improvisation Workshop for DPA INTAN 2022
Webinar of Digital Culture and Mindset in Public Sector (DGCCR - CM)
Certified Tester Foundation Level (CTFL)
Digital Government, DPA Programme
Certified Professional for Requirements Engineering (CPRE)
JOOMLA Web Development
Application System Engineering of Public Sector (KRISA)
Public Sector Training Courses – Digital Infrastructure
Cisco Networking Academy (Cisco Netacad): IT Essentials (PC Hardware and Software)
Cisco Certified Network Associate (CCNA): Introduction to Networks
Cisco Certified Network Associate (CCNA): Routing, Switching and Wireless Essentials
Internet of Things Course
Microsoft Azure IoT Technical Course
Introduction to Computer Network: IPV4 to IPV6 Evolution
Public Sector Training Courses – Digital Security
Security Information and Event Management (SIEM) Using Micro Focus Sentinel Enterprise Software
ISMS Information Security Management 27001:2013 Implementation Team
Digital Forensic and Evidence
Information Security Management ISMS 27001:2013 Internal
Cybersecurity
Cloud Computing
Public Sector Training Course – ICT Strategic Management
Refresher Course DGCCR Certified Trainers
DGCCR Certified Trainer Course
Digital Mindset and Culture (DGCCR CT)
Fundamentals of Enterprise Architecture
Digitalization Strategic Plan, Methodology Development
Digital Mindset (DGCCR CT)
Fundamentals of Enterprise Architecture
DGCCR CT 2.0 Certification Ceremony
Public Sector Training Course – Digital Content Development
e-Learning Course for Public Sector (EPSA): Introductory Course to Content Development
e-Learning Course for Public Sector (EPSA): Content Development Workshop
High Impact Presentation Course
EPSA Guideline Improvisation Workshop
Content Development using I-SPRING
Public Sector Training Course - Data Analytics
Analyzing and Visualizing Data Using Excel
Training Module Development Workshop
Exploring Data Analytics with Speedminer Course
Data Science Fundamentals
IR4.0: Big Data Analytics Essentials
Data Science for Big Data Analytics
Machine Learning for Data Science
Public Sector Training Course – ICT Project Management
Coursera Usage Training
ICT Project Management
DGCCR Modul Workshop Level 1 -4
HEAD OF CENTRE
Information Technology and Technology Development Studies Centre (IMATEC)
National Institute of Public Administration (INTAN) Bukit Kiara
Jalan Bukit Kiara
50480 Kuala Lumpur, Malaysia
Tel: 03-2084 7681
Fax: 03-2084 7692
E-mail: info.imatec[at]intanbk[dot]intan[dot]my