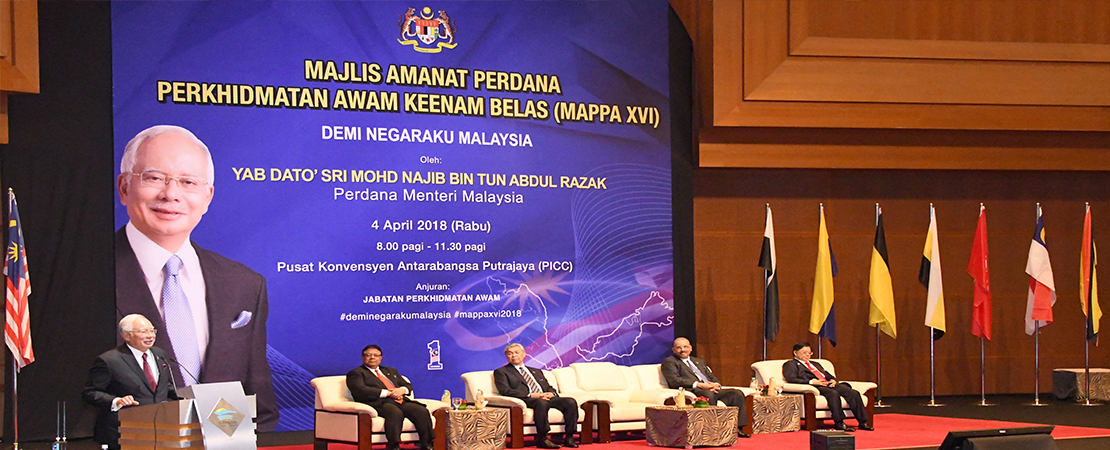 The inaugural Civil Service Premier Assembly (MAPPA) was held in 2000 as a platform for civil servants to embrace the aspirations and desires of the nation's top leadership through a message from the Prime Minister. This event is highly significant in the efforts to elevate the civil service and be a driver for Malaysia to be a nation that is respected and having citizens of calibre who are bold and having a par excellence mindset.

The XVI Civil Service Premier Assembly (MAPPA XVI) themed "For Our Nation Malaysia" was held on 4 April 2018 at the Plenary Hall, Putrajaya Convention Centre (PICC). The event which was broadcasted live on RTM TV1 and via JPA Facebook saw a record-breaking attendance of more than 11,000 civil servants from all schemes of service, representatives from CUEPACS, and pensioners.

In his keynote speech, YAB Prime Minister highlighted the following:
The government is guided by the spirit and strength of the Maqasid Syariah framework in safeguarding religion, life, intellect, wealth, and race towards achieving success for Malaysia.

The People First, Performance Now 1Malaysia philosophy based on the National Transformation Policy and the principles of moderation (Prinsip Wasatiyyah) are aimed at elevating Malaysia into the ranks of the world's top 20 nations by 2050.

The three principal values that should be internalised and followed by civil servants in carrying out their duties and responsibilities are:

Wala'-WasatiyyahTabayyun;

World Class Public Service; and

Faithful and Principled friend.
YAB Prime Minister also stressed on the following three challenges faced by civil servants:
The Fourth Industrial Revolution and Digital Economy;

Digital Government Competency And Capability Readiness (DGCCR); and

Paving the aspiration for National Transformation 2050.

In conjunction with the event, YAB Prime Minister presented cheques to representatives of Yayasan Pesara Kerajaan Malaysia, Kelab Pesara Kerajaan 1Malaysia and Persatuan Pesara Kerajaan Malaysia as a mark of appreciation the contributions of government pensioners during their tenure in the public service. YAB Prime Minister also presented a cheque to the President of CUEPACS for the union's efforts and initiatives in protecting the welfare of the country's civil servants.